Butterfly valves with pneumatic or electric drive!
For maximum flexibility, we offer you our between-flange butterfly valves, also with drives in different variants. The butterfly valve with pneumatic drive (image left) is operated with compressed air. These are available in single-acting or double-acting models. Single-acting drives only have one inlet that is operated by compressed air, which opens the valve. It is then closed by a pre-tensioned spring. Double-acting drives have two inlets, one serves to close the valve and the other to open the valve, depending on which inlet is actuated with compressed air. The pneumatic drive can be operated via a Namur valve . We are able to offer the butterfly valves with electric rotary drive (image right) with voltages 24 Volt AC/DC or 230 Volt AC. The electric drive includes a temperature monitor, which constantly monitors the temperature of the motor. Please note that our automated butterfly valves only up to DN200 are available in the webshop. Butterfly valves with larger nominal widths have to be ordered from us. Our motorised butterfly widths are frequently used in water and drinking water treatment, in shipbuilding, in sewage plants, in various hot water or cold water circuits
Irrespective of the drive technology, our butterfly valves are made from high quality spheroidal graphite cast iron GGG40. Some of the drives are designed with protection class IP67, more information is available in the datasheets.
There for you
---
Special requests, spare parts or a quick support? Our staff will answer your questions and concerns immediately.

You can reach us from Monday to Friday at +497143 9666900 and any time at sales@nieruf.com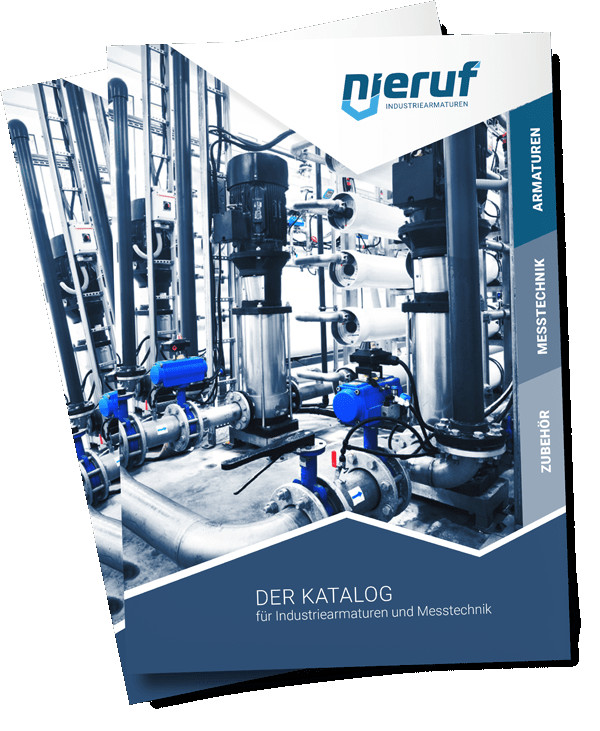 Quality
---
Our certified quality management according to DIN EN ISO 9001: 2015 is part of our DNA. With our test stands we can carry out pressure tests with up to 350 bar with air and water as well as leak tests according to DIN EN 122661.
Committed
Commitment engenders trust. We stand by our word and are convinced that as a result not only our customers but also everyone we work with can rely on us.
Motivated
We always strive to find the best solution for our customers. It is our goal and incentive to have completely satisfied customers.
Competently
Technical and commercial expertise form the basis for developing qualified solutions tailored precisely to the needs of our customers.
Flexible
We do not adhere to rigid guidelines but instead focus on the individual wishes and needs of our customers. They are more important to us than internal company processes.