Threaded or bonded socket joint fittings

In pipe construction, the term 'fittings' refers to connecting elements or other accessories. They are available in dozens of different varieties. As a rule, all of these parts are used for connecting one or more pipes or for installing fittings or components used for metering. The only exception is the stopper. This serves as a closure for a pipe. Apart from this, there are connectors as well as and screw connection and angle pieces. The term 'nipple' is used for simple connecting elements with external threads. Examples include double nipples, reduction nipples and pipe nipples. The term 'piece' generally refers to connections with internal threads or bonded socket joints such as tees, crosspieces and reducers. Reducers, however, are equipped with an internal thread on one side only. Angles and screw connections also come under the category of 'pieces'. The complete range of pipe fittings is, of course, available not only with threaded connections but also with bonded socket joints. In such cases, the plastic fittings are glued to the pipes or fittings. Other connecting elements, in addition to threaded fittings or bonded fittings, include flanges.
Pipe fittings for gas, water and swimming pool pipes and for the chemical industry

Perhaps you are planning to install a externally threaded stainless steel ball valve or an internally threaded plastic solenoid valve within in a pipeline system? Or you want to connect a series of plastic or stainless steel pipes? If so, then NieRuf is your ideal partner. We have a variety of different pipe connection fittings available in stainless steel, brass and PVC-U plastic. Our threaded fittings can help you to quickly, easily and safely install pipe elements or fittings such as safety valves, overflow valves and metering components in heating systems, gas pipes or drinking water pipes, for example. Our threaded or bonded socket joint PVC fittings also work perfectly when connecting pool pipes in swimming pool systems or integrating PVC ball valves into chemical industry systems.
Threaded fittings made from stainless steel, brass or PVC

Depending on the requirements involved, our pipe fittings are available in stainless steel (316), brass or plastic (PVC-U) versions. The choice of material will depend on the type of fluid flowing through the pipes and the material from which the pipes are made. To protect workers from injury and to avoid damage to components, machinery and pumps, the pipe connection elements should only be installed when the systems have been shut down. In addition, the pipes should be free of any fluid. In order to ensure that installed threaded fittings remain leak-proof, additional sealing tape or Teflon tape should be used. Any PVC bonded socket joints can be made leak-proof by means of a 360° application of the adhesive around the pipe or the fitting. We would be happy to advise you on your selection of the correct pipe fittings for your application and provide you with a customised quotation. Alternatively, you can purchase suitable threaded or bonded socket joint fittings directly from our online shop.
There for you
---
Special requests, spare parts or a quick support? Our staff will answer your questions and concerns immediately.

You can reach us from Monday to Friday at +497143 9666900 and any time at sales@nieruf.com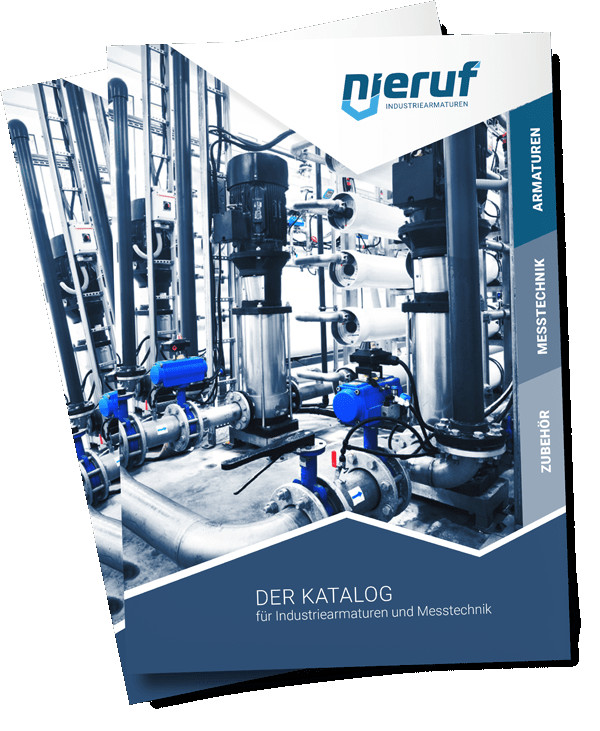 Quality
---
Our certified quality management according to DIN EN ISO 9001: 2015 is part of our DNA. With our test stands we can carry out pressure tests with up to 350 bar with air and water as well as leak tests according to DIN EN 122661.
Committed
Commitment engenders trust. We stand by our word and are convinced that as a result not only our customers but also everyone we work with can rely on us.
Motivated
We always strive to find the best solution for our customers. It is our goal and incentive to have completely satisfied customers.
Competently
Technical and commercial expertise form the basis for developing qualified solutions tailored precisely to the needs of our customers.
Flexible
We do not adhere to rigid guidelines but instead focus on the individual wishes and needs of our customers. They are more important to us than internal company processes.