Our quality
For your work
24 Months Warranty
The NieRuf warranty provides 24 months of protection for all product defects that you did not cause yourself.*
ISO 9001: 2015
Our certified quality management according to DIN EN ISO 9001: 2015 is part of our DNA.
NieRuf-Exchange
If you have made a mistake in the nominal diameter, pressure range, voltage or material, you can return the item without any storage fees within 21 days. **
Professional tools
from us for professionals
CAD & Datasheets
Data sheets, operating instructions as well as the CAD data of the article in STEP format can be found directly with the respective article or in this tool for download.
Resistance check
The NieRuf resistance list contains an evaluation of the chemical resistance to various operating media for various materials that we can deliver. Just search for your medium.
Specification texts
You can quickly and easily transfer the specification of our valves to your tender text or specification. To do this, copy the text field and paste it into your IT system.
Spare Parts
Information about spare parts can be found directly on the product. Use the practical and simple spare parts finder function of NieRuf.
Certificates
Get a quick overview of all possible certificates or approvals for a NieRuf product.
Document management
With NieRuf you can easily access the documents, certificates and reports you have ordered. The documents can be loaded directly via our download management using the order number or serial number. You are also welcome to upload and manage your own documents.
3D Viewer
Quickly see important details on our products with our 3D viewer.
Recoding
Enter article numbers of other manufacturers or suppliers in the search and we will show you our suitable alternative.
Set Pressure Tool
Use our tool to quickly and easily determine the set pressure of a safety valve or the recommended maximum operating pressure of a system when used with a safety valve from NieRuf.
Communication Tools (Chat & Video)
Digital on site. Use a wide variety of channels to communicate with us. Give us a call, send us an e-mail, chat with us directly, start a video call via the homepage or we will meet in person.
AR / VR - BETA
Our products in your plant. Build our high-quality products virtually into your system and quickly and easily clarify the installation spaces or the operability of the fittings in your application.
Service & Support
We are there for your questions.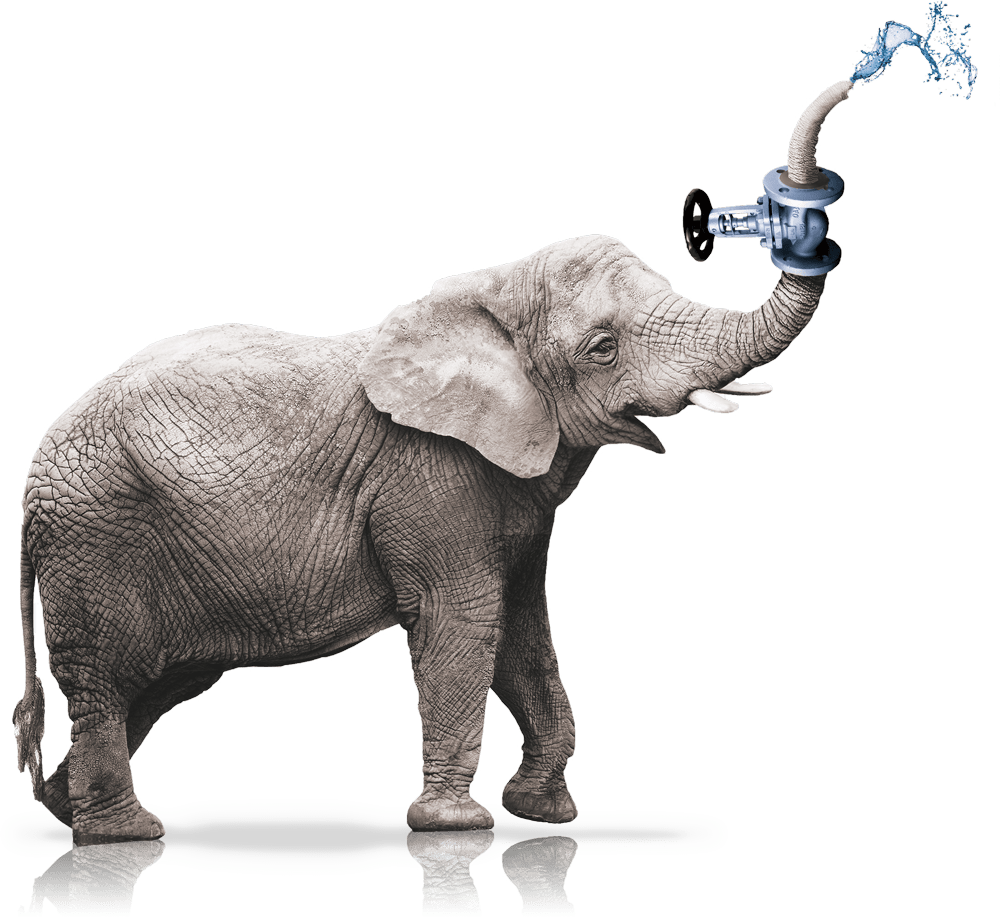 This is the
All animal rights activists may rest assured; we do not intend to fit valves from our factory to elephants in the future. Elephants do not need them anyway. Their trunk is a multifunctional organ: for feeling, gripping, breathing, smelling and fighting. The trunk is also used as a suction and pressure pump thus allowing the elephant to drink 200 litres of water in 5 minutes. The trunk can also be used to spread dirt and dust over the skin. No matter whether it's regulating or controlling, water or highly viscous media, the elephant and nieruf can cope it.
»That's why we believe that the elephant best represents the diversity of our valves.«
NieRuf
Through our comprehensive product range of industrial fittings, we can supply the right valve for every budget, no matter whether low-price needle valves or high-price and sophisticated pressure reducing valves. In the scope of master agreements and great purchase quantities, we are happy to grant you project-specific discounts. High-quality industrial fittings at low prices with fast delivery times. That's what NieRuf stands for. Should you have product-specific questions during the planning stage of your pipeline project, please don't hesitate to contact the NieRuf industrial valves team at any time. Our competent employees can find the right solution for your problem in the area of industrial valves and measurement technology. Building pipelines with industrial fittings is a part of every industry. In ship building, pipelines are built in for the fuel inflow with solenoid valves. In biogas plants, pipelines with ball valves are utilised for the gas supply. In cooling systems, pipelines with butterfly valves are used for the inflow of cooling agents. In building technology, pipelines with check valves are utilised in the area of water and waste water. In the oil industry, oil tanks are fitted with sight glass fittings. In heating engineering, overflow valves are utilised as so-called bypass valves in combination with angle seat valves. In all these areas of application, industrial fittings by NieRuf play an essential role. The industrial fittings are utilised to control and adjust media within pipelines and also serve the purpose of protecting the facility depending on the fitting, such as safety valves, vent-valves or strainers. Thanks to our comprehensive range of industrial fittings with thousands of articles, we have the right product for any area of application. Whenever a medium has to be adjusted or blocked, this should be controlled and monitored. NieRuf GmbH supplies a variety of different measurement technology fittings. You can, for example, purchase temperature devices in different designs and for all kinds of temperature ranges to control the temperature of liquid and gaseous media. With float valves you can monitor the filling levels of containers, even if you cannot measure them. The float valve regulates the inflow or outflow of a liquid into or out of the container fully-automatically. Via our electronic pressure sensors, you can measure and visualise the existing pressure in your pipeline system or container system. With our manometers, also available with a glycerine filling, you can have the pressure displayed in bar directly at the point of measurement. This is usually built directly into a fitting, for example before and after a pressure-reducing valve or through a siphon and a manometer gauge valve. Through our fluid level gauges and point level switches, you can always keep an eye on the filling levels in your containers or pipelines. Should the limit level be reached, this is automatically transmitted to your control system. Through our variable area meters you can also keep an eye on the flow. We are happy to help you select the right measurement technology component for you.
*Für Artikel die mit "NieRuf-Garantie" auf der Detailseite unter www.nieruf.de gekennzeichnet sind, gilt eine Garantiezeit von 24 Monaten. Die Garantiezeit beginnt ab dem Tag der Auslieferung. Weitere Details siehe AGBs Punkt 7 – 7.11. **Gültig für alle Artikel die mit "NieRuf-Umtausch" auf der Detailseite unter www.nieruf.de gekennzeichnet sind. Die Umtauschfrist beginnt ab dem Tag der Auslieferung. Weitere Details siehe AGBs Punkt 9 - 9.5.
Committed
Commitment engenders trust. We stand by our word and are convinced that as a result not only our customers but also everyone we work with can rely on us.
Motivated
We always strive to find the best solution for our customers. It is our goal and incentive to have completely satisfied customers.
Competently
Technical and commercial expertise form the basis for developing qualified solutions tailored precisely to the needs of our customers.
Flexible
We do not adhere to rigid guidelines but instead focus on the individual wishes and needs of our customers. They are more important to us than internal company processes.